This April 2008 Oahu trip, like all trips to this beautiful island, went very well. The hotel I stayed at this time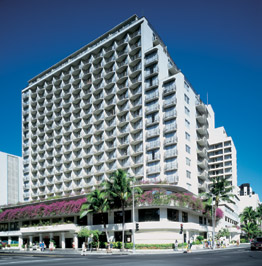 was the Ohana East and it was really good in some unique ways. Since discovering this hotel, I have stayed there everytime I go to Honolulu (usually once a year.)
Ohana East has all the ADA rooms with city view; that is usually an extra $10 per night to get a city view. Since the ADA rooms are priced the same as standard rooms, it is a nice bonus to have the city view at no extra cost. Of course it is also nice to be right near all the major bus stops as well. This is a real plus when you want to go to a wide range of places on the island. Everyplace from the University to the Art Museum to Bishop Museum to Ala Moana to Hanauma Bay to Pearl Harbor to Kailua to Wainai to the airport can be gotten to from the bus stops at Ohana East.
I like the fact that I can check into my Hawaiian Airlines return flight from the Ohana East hotel lobby that morning. There is not only a Hawaiian Airlines kiosk in the lobby but up until 10 AM it is staffed as well. That way I can not only get my seat assignment and boarding pass, but check my bags as well. The reason that checking the bags to the airline from the hotel lobby is so good is because then I can just take the bus to the airport instead of a cab. The airline charges $10 per bag to check in at the hotel but with two bags I still save $15-$20 depending on the cab. In a wheelchair it really is a nice plus to check the bags from the hotel lobby.
I also took a peek at a couple of the new hotels on Lewers St. The old Ohana Waikiki Surf East has been gone a few years already. In its place the Wyland Waikiki (808-954-4047) has just celebrated its one year anniversary. The Wyland Waikiki is a very modern, sheik, contemporary hotel with clean lines and polished furnishings. Complimentary business center complete with Apple computers. The ADA rooms there are nice- they have the expected roomy bathrooms with accessible features. The only odd thing about the ADA rooms at this hotel is that the beds are unusually high. I think this is the result of putting a platform mattress with a box-spring on an elevated bed frame. The staff will lower the bed upon request, I suppose by taking the legs off the mattress frame. Still, the room is pretty nice. If contemporary furnishings are what a person wants, it may be worth $180 a night.
The other hotel I looked at around Lewers St. is Waikiki Parc. (It is actually on Helumoa Rd. - just off Lewers St.) but that whole neighborhood has been reworked and is very nice. The shops, restaurants and galleries there are an attraction in and of themselves. If the Wyland Waikiki is modern, then Waikiki Parc is perhaps best described as Ultra Stylish. The Waikiki Parc is a huge hotel with all modern furnishings, very clean and polished. This hotel reminds me of the new hotels just opening in Las Vegas; very modern. The ADA rooms appeared to be in proper order with no exceptions. As with most of these hotels, they offered two styles of ADA rooms, those with roll-in showers and those with accessible tub bathrooms. Perhaps the only noteworthy thing on the toilet I saw was that the grab bars on the toilet don't flip up out of the way, but they are in such a position where I don't imagine it would be necessary to flip them up. The design is strong, secure and accessible. Both hotels had rooms with complimentary in-room safes and at least a small walk-out patio type area. (Though the patio at Ohana East was much larger and nicer.)
All the closets were accessible as well. All the in-room thermostats were accessible. None of the hotels had in-room microwaves but they all had refrigerators and hotplates with complimentary tea & coffee.
One last item that I investigated on this trip was an accessible taxi. I don't really use that type of cab very often because I use a manual wheelchair which comes apart pretty easily for regular cab rides. I did want to try and see what is available though so I took a ride with ABA Hawaii HandiTrans Services llc. (808-221-0000) In this case it was a good ride at a fair price. The vehicle is a minivan with rear entry ramp. It can carry nearly any size wheelchair or scooter and still have room to seat a bench full of passengers or baggage. For the airport a regular cab would charge $40, this cab charges $50, so it is still a value.
A suggestion for those concerned about the security of their passports- New passports have a chip in them called an RFID chip. This is a new security measure which enhances the ability of authorities to verify the authenticity of passports. As with most new electronic technology, it can be compromised by individuals with ill intent. Criminals who are standing nearby can use a device to read the information off of a person's passport or credit cards. Information such as name, address, date of birth, social security number, passport issuing authority and expiration date can all be hacked off a passport in seconds. This is especially possible while waiting in lines at the hotel, airport or customs. The way to protect against this is to carry the passport in a protective, shielded case. One such case is available through this company http://www.difrwear.com/products.shtml
Mahalo :-)