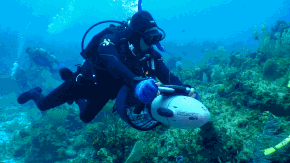 May 26th to June 2nd 2007 was the week that I went to Cayman Brac. I went with a group from Houston Texas named Dive Pirates. By the end of the trip I had completed 14 dives; that brings my 37 month total to 76.
This group was a really terrific group of people. I knew from the first day that this was probably the best group of people I'd been diving with yet. I say this not to say anything bad about my previous groups, they have all been the best, but because the purpose of this dive trip was significantly different from any of my other trips. The main purpose of this trip was to be a vacation for my entire family, not just a diving trip for me. I was with my wife and eleven year old son and so it was very important to me that, in addition to great diving and great divers, there also be people for my family to interact with. It is not easy to make every one happy, especially when it comes to kids. When I saw my son opening up to the other children and my wife chatting with the other women in our group, I knew it would be a great group of people. The entire week was full of fun talking with the large group of diverse people from all over the American Southwest. There were four full time wheelchair users and two other people with limited mobility, in addition to about forty able bodied family members and friends. Everyone was very accepting and helpful regarding disabilities. At no point did I ever feel embarrassed about needing to use a wheelchair. Neither did I ever feel guilty about asking for help. There were lots of able bodied people who just jumped right in to help. Whether it was getting on the boat, squeezing into my wetsuit or needing a little privacy to catheterize, I never felt like my paralysis was an obstacle. Everyone from Phil to Nigel and the boat crew too, they were all very gracious and hospitable. There were more people than I can remember names for; and that was just the boat I was on. There was another boatful of us. This club really is packed with great people.
The diving was great. Cayman Brac is worthy of it's reputation as a premier dive destination. First impressions are always important and I will definitely be back to explore more of this beautiful place. The weather wasn't great but it was passable. Being that it was the first day of hurricane season, we weren't really surprised by the continual overcast conditions. Sometimes the drizzle was turning into rain but the visibility was always great below the surface. At some points it was actually warmer in the 82 degree water than it was in the 79 degree air above the surface. The variety of wildlife was broad. Angelfish, Jawfish, Grunts, Snappers, Groupers, Sea Turtles, Parrotfish, Butterflyfish, Triggerfish, Barracudas, the list goes on. The coral and anemones were also abundant. Navigating the reef heads was very easy. Our boat, the Little Sister, was piloted by Captain Vicki and First Mate Brett of Reef Divers.
The hotel was also fairly accessible, from a paraplegic's view. From the quadraplegic's point of view, the accommodations could be better. I'm really not sure if any of the rooms had roll-in showers but I don't recall hearing that there were any. The plywood ramps were haphazardly prepared for us but the hotel staff was very accommodating regarding any accessibility requests I made. Upon our departure the property owners vowed to make at least two rooms totally accessible. We all appreciate that generous gesture and we look forward to an even better stay there next year. Especially in light of the fact that there is no longer a totally accessible hotel there since the fairly recent closure of another hotel that had six rooms with roll-in showers. The food at this hotel was top notch; certainly the best buffets I have ever tasted in my worldwide travels. Every meal was five star gourmet.
In closing I will say that this was a great trip that I will take my family on again. If you are a wheelchair user looking to go to Cayman Brac for scuba diving, whether to learn for the first time or to just enjoy the scenery, this is certainly one possibility worth considering.